Size Guide
Size
Hand Circumference
Inches
Cm
Min
Max
Min
Max
Child / S
5.5
6.5
14
16.5
M
6.5
8.5
16
21.6
L
8.5
9
21.6
22.9
XL
9
10
22.9
25.4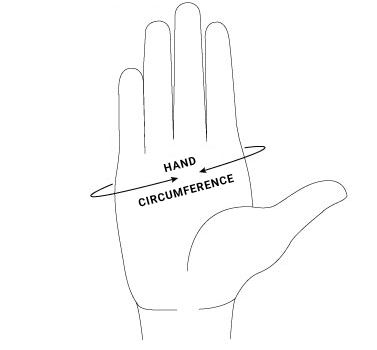 Guarantee
As standard, the entire Renwick & Sons Collection is guaranteed.
This is including – but not limited to – arriving in a pristine condition, for each item to last, and no excessive wear and tear from correct and regular use.
It should be noted that as a natural material, wood will change colour overtime and age to develop a patina and is not a defect. Likewise wood and leather must be treated correctly to avoid damage, but cannot be expected to remain in new condition for long.
Finally, if you find yourself unhappy about any aspect regarding your collection, please, contact Renwick & Sons and we guarantee to assist in trying to rectifying any issues which you have.
Technical Info
Bristle
Here at Renwick & Sons we are proud to say that we produce the finest in equine brushware. However, at first glance that we use synthetic bristle may seem counter to this fact – though we can assure you that this could not be further from the truth. With advancements in technology the fact is that our high-quality premium synthetic bristle performs better than natural bristle, and provides benefits which are not replicable with natural bristle: making our unique synthetic bristle a better solution for horse grooming than the traditional alternatives.
Throughout each item in the Renwick & Sons collection we use our own high-quality premium synthetic bristles; but in order to distinguish our premium bristles – which are exclusive to Renwick & Sons – from the cheap low quality bristle found elsewhere in the equine market, we have registered our unique blend of bristles as Monotec®
For example, the softest Monotec® bristle in the Renwick & Sons collection is used in the Finishing Brush, and Face Brush. This super-soft bristle which Renwick & Sons use is well beyond the softest natural bristle – which is typically goat hair. The result being that our synthetic bristle provides a much finer and softer finish to your horses coat than natural bristle ever could.
Our stiffest Monotec® bristle, which we use in the Dandy Brush, and Flick Brush is again much stiffer than any natural bristle. This means that by using synthetic bristle, Renwick & Sons can reduce the amount of stiff bristle needed, so making grooming physically easier, but without compromising on the grooming performance.
Renwick & Sons Monotec® bristles also produce a range of benefits with the inclusion of various enrichments inside the bristle which natural bristle cannot compete with. These enrichments are safe for your horse, and give the positive benefits of anti-bacterial sterilising, frizzy-hair management, anti-static brushing, or ionic properties. These advantages simply cannot be replicated in natural fibre.
Not only does Renwick & Sons Monotec® bristle provide benefits which natural bristle cannot, but it also solves many of the problems inherent in natural bristle. Premature snapping and wear due to soft-spots and poor quality consistence in the bristle fibre is common in natural bristle; whereas Monotec® has consistent strength throughout each bristle having been precision extruded.
A further issue with natural bristle is the amount of bristle which falls out over time and use, this is due to the weaker fibres falling out and snapping which creates space to allow the stronger bristle fibres to fall out; but due to the strength of polymer which Renwick & Sons use, our Monotec® bristle has a long life and consistent strength preventing premature bristle loss.
A final, potentially dangerous fault of natural bristle – be it hair, or plant fibre – is that it is porous, allowing germs to spread inside the bristle which can be a serious safety concern; synthetic bristle on the other hand, is not porous and so any germs sit outside the bristle, where the self sterilising Monotec® bristle can eliminate it.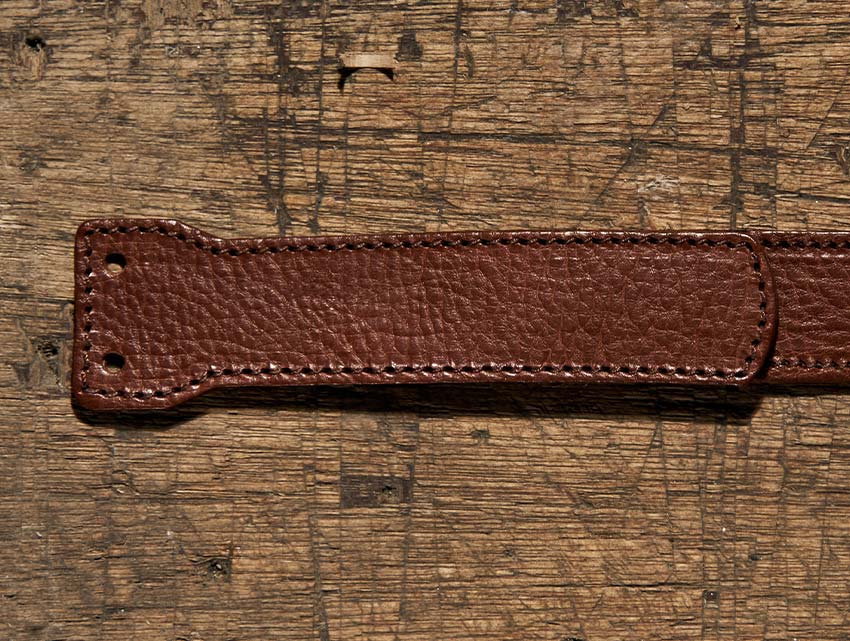 Embossing Preview
Type your text into the form inputs below to see an example of the embossing on the strap. You can also change the strap colour below using the colour swatches.
Change preview colour